the Little Mole - Krtek- der Kleine Maulwurf
He's very popular in many European countries: the Little Mole. Originally he comes from the Chzech Republic and he is a creation of Zdenêk Miler. Because I'm a Little Mole-fan I collected some things and pictures of the Little Mole. There is very little of that on the Web. That's why I'd like to show some of these things on this page.
A lot of nice pictures can be found in the pretty, printable Little Mole-Birthday calendar.
There's some more Mole-pics on the Send a card-page. To go there, see the Little Mole-PostOffice. Surprise someone with a digital Little Mole- greeting!

On this page you will find pictures that aren't on the two pages mentioned above. Scroll down...
---
Drawings from the picture books by Zdenêk Miler.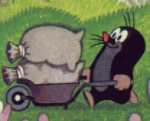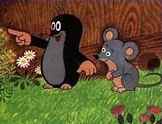 Four cute little Moles I found on the Web, now where exactly was that again....?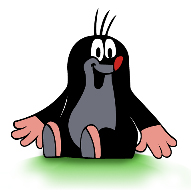 (And one more)

---
These lovely pistures are from Kratky Film in Praag. Their homepage is not very clear to those not speaking Chzech, but it looks like they produce and sell films, including ALL Little Mole films. If you browse around their site for a while you may find wonderful stills from every Little Mole film ever made ... (try looking here)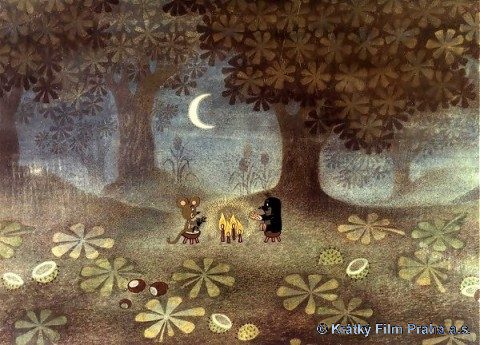 This one , I think, is a beautiful example of Miler's poetic style. Looking at it always makes me feel like going on a camping trip.
To the next page. Mole-collectibles.
Back to the Index-page.
To the spectacular printable Little Mole-Birthday Calendar!
To the equally spectacular and brand new Little Mole Post Office!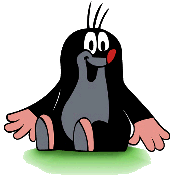 Updated: november 15th, 2005. To send me email click here.